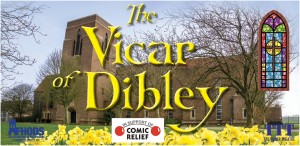 Wednesday 18th - Saturday 21st March 
Is the Vicar of Dibley coming to The Tower Theatre? No, no, no, no, no, YES!
This hilarious show by Richard Curtis and Paul Mayhew-Archer is adapted from the original TV series by Ian Gower and Paul Carpenter, and brings to the stage all those favourite characters we remember so well.
Pompous David Horton, reeling from the shock of having a female vicar in Dibley village, cannot prevent his vacuous son, Hugo, from marrying the simple, but well-meaning, verger, Alice Tinker. Frank Pickle is being ever pedantic over the parish council minutes, and can't quite decide whether dithering Jim Trott means yes, yes, yes or no, no, no! Owen Newitt cannot conceal his lustful intentions towards the new, chocolate-loving vicar, Geraldine, and no-one wants to taste any of Mrs Cropley's unsavoury delicacies. Will the Dibley wedding of the year go according to plan? Of course not!
This production is being directed by Mike Chisnall and produced by Michelle Hartley. All the royalties that FHODS has to pay to stage this show are being donated to Comic Relief. Tickets are likely to sell out quickly - don't delay or you may be disappointed!
Performances
Wednesday 18th March 7.30pm - Friday 20th March 7.30pm | Saturday 21st March 2.30pm & 7.30pm
Tickets £13 | Concessions £11 (over 60s and full time students) | £10 (children aged 14 and under) 
Contains swearing and adult humour