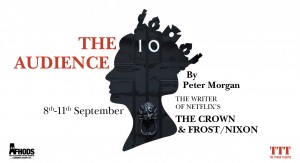 Wednesday 8th - Saturday 11th September
65 Years. 13 Prime Ministers. One Queen
We're delighted to announce the first of our post-lockdown plays, 'The Audience' by Peter Morgan. For 60 years, Queen Elizabeth II has met with each of her prime ministers in a private weekly meeting. This meeting is known as The Audience. 
No one knows what they discuss, not even their spouses. From the old warrior Winston Churchill, to Iron Lady Margaret Thatcher and finally David Cameron, the Queen advises her prime ministers on all matters both public and personal. 
Taking place between 1952 and 2016, this incredible play offers us glimpses of the woman behind the crown, the men and women behind 10 Downing Street, and to witness the moments that shaped a monarch.
Written by Peter Morgan ('Frost/Nixon' and 'The Queen'), this award-winning play was the original basis for his follow-up Netflix show, 'The Crown'.
Stalls
Adults £15 | Concession £13 (over 65s) | Under 18s & Full time students £12
Gallery 
Adults £13 | Concession £11 (over 65s) | Under 18s & Full time students £10  
Performances 
Wednesday 8th September 7.30pm
Thursday 9th September 7.30pm
Friday 10th September 7.30pm
Saturday 11th September 2.30pm & 7.30pm  
Please note that In line with current government guidelines, tickets for this show will initially be sold as socially distanced in the auditorium. As and when changes to restrictions are confirmed, we will remove the social distancing in the theatre.