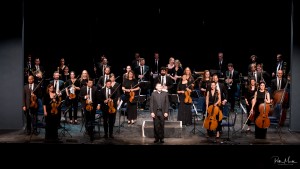 Friday 24th June 7.30pm
Hastings Philharmonic Orchestra is keen to foster links with local towns and festivals. It is always a pleasure for the orchestra to play in a variety of venues and to engage with different audiences. This year HPO will be visiting a range of sites in the county and we're delighted to welcome HPO to The Tower Theatre for their first visit to Folkestone.
Join HPO for their lively summer concert featuring
Mozart's Horn Concerto No 4
with its popular galloping finale;
Prokofiev's playful Symphony No 1, 'Classical'
and
Mendelssohn's Symphony No 4
,
'Italian'
, which conveys impressions of Italy in vibrant and varied musical textures - Mediterranean sunshine, religious solemnity, monumental art and architecture, blue skies and open countryside. Perfect listening for a summer evening! 
Stalls
22.50 adults | £20 Concession (over 65s) | Under 18s free
Gallery
£20 adults | £17.50 Concession (over 65s) | Under 18s free
Running time 1 hour 55 minutes, including 20 minute interval
For further information please visit 
https://www.hastingsphilorchestra.co.uk/24th-june