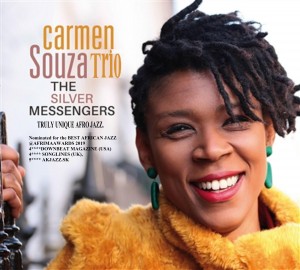 Thursday 27th January 2022  8pm
WORLD JAZZ LIVE SESSIONS AT THE TOWER - Hosted by Maiuko
Often called the Cape-Verdean Ella Fitzgerald, Souza is a reference in the Cape-Verdean music scene.  A female pioneer; writing, recording and performing her own successful formula of World Jazz, all over the globe. Her charisma and earthy virtuoso vocal technique have permitted her to operate far beyond the limits of World Music, Jazz, and singer-songwriter, all genres in which she moves with ease and grace. 
Carmen Souza is known for creating a new body of timeless Creole Jazz that undoubtedly will inspire future generations. With a critically acclaimed solid career, in both the World Music and Jazz scenes, spanning over more than a decade, several tours around the world and 8 CD, Souza, together with her long time musical partner, Theo Pascal, have managed to imprint ethnicity to Jazz in their signature 'World Jazz' and get it closer to its African roots. 
The latest CD 'The Silver Messengers' was released in Oct 2019 by Galileo Music and the audience and press response, all over the World, was fantastic considering the album the ultimate tribute to Horace Silver. The album got 4****star reviews at the Downbeat Magazine (USA) and Songlines (Uk) among others, was cover story of one of the most important Jazz magazines in Germany - Jazzthetik and went on to be included in the most important press Charts in Europe: World Music Charts Europe, Transglobal World Music Charts, Europe Jazz Media Chart (European Jazz Network). In the USA the album also entered the Jazz Radio chart.  
Horace Silver has been credited, more than once, as a big influence in Souza´s career. Silver left us 6 years ago and Souza´s connection to the emblematic and pioneer hard bop pianist go beyond just the artistic identification. 
Tickets £12.50 | Doors open at 7pm for a 8pm start 
Unreserved seating
A PortCaia production in association with the Tower Theatre