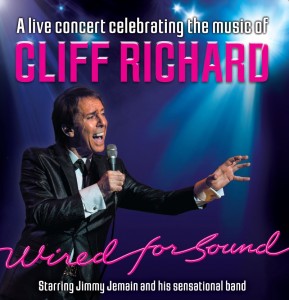 Friday 21st October  3pm
A concert to celebrate six decades of hit singles by Sir Cliff Richard, Wired For Sound, is a must see for the ultimate Cliff Richard musical experience when you can't see the real Cliff!

The Shadows played an important part in the early years, and no show reflecting on the career of Sir Cliff, would be complete without some of their music included in the show. With hits such as We Don't Talk Anymore, Move It, Devil Woman, Some People and many more, multi award winning Jimmy Jemain and The Wired for Sound band will have you tapping your feet and dancing in the aisles as they take you on a musical journey of Cliff's fantastic music.

Jimmy has performed in front of Sir Cliff, to celebrate Sir Cliffs 50 years in the business, and his 70th birthday, both held at the Dorchester Hotel, London. He also won the National Tribute awards in 2017 & a lifetime achievement award in 2019.
'Spot on, a bit too good'  Cliff Richard
'Talks, walks, looks and sings like Cliff Richard' Daily Mirror
Tickets £19 | Concessions £17 (over 65s and under 18s) | Doors from 2pm