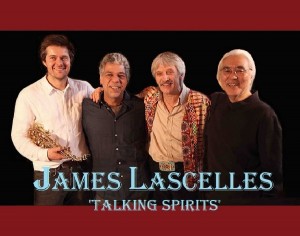 WORLD JAZZ LIVE SESSIONS AT THE TOWER - Hosted by Maiuko
James Lascelles 'Talking Spirits'; a mix of World Music, Jazz, Folk, Latin and Anglo-Caribbean grooves. 'Talking Spirits' comprises highly skilled seasoned professionals who take us on a musical journey around the world. James Lascelles is on Keyboards, Dulcimer, Melodica & Percussion and is joined by former bandmates from the legendary Breakfast Band.
Richard Bailey - Drums & Percussion
Kuma Harada - Bass & Guitar
Tim Herniman - Sax & Violin 
Plus special guest appearances by Bud Beadle (Saxes and Flutes), Mikey Bailey (Bass), David Ola (Drums & Talking Drum), Michael Curtis Ruiz (Bass), GT Moore (Guitar), Winston Delandro (Guitar), who have honed their skills over the decades working with some of the biggest names in music including: Frank Zappa, Joan Armatrading, Lee 'Scratch' Perry, L Shankar, Jeff Beck, Steve Winwood, Van Morrison, Billy Ocean, Mick Taylor and Steve Harley & Cockney Rebel.
http://www.jameslascelles.co.uk
Support Act - Jack Pound Trio
In the past Jack has been compared to various artists such as Big Bill Broonzy, Mark Knofler and Guy Clark. In reality Jack Pound is simply himself and against all prevailing musical trends has established himself as a low key, song writing phenomenon. 
A highly skilled guitarist and songwriter, his bluesy, often quirky style is particularly appreciated by discerning literary audiences…whilst the rest of us just enjoy the music. 
John Rice, Poet – South East Arts
A quirky, sophisticated, constantly innovative original with a veritable soundtrack to a cinema of songs. 
Pete Brown- Annexe Music
Funny, serious, sometimes perplexing, sometimes clear. His astonishing individual style stretches across all manner of parameters. 
Colin Irwin. Mojo
Tickets £15 | Doors from 6.30pm
Unreserved seating
A PortCaia production in association with The Tower Theatre