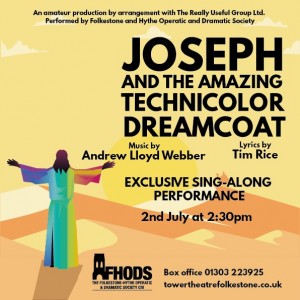 EXCLUSIVE SING-ALONG PERFORMANCE 
Now, close your eyes and draw back the curtain - we are delighted to announce that FHODS summer 2023 musical will be Joseph and the Amazing Technicolour Dreamcoat!
With lyrics by Tim Rice and music by Andrew Lloyd Webber, this family favourite has been wowing audiences since for decades and has seen many stars, from Donny Osmond to Jason Donovan and Philip Schofield, play the titular role. 
The story follows Joseph, a dreamer, who is one of twelve brothers. As his father's favourite son he is gifted a 'coat of many colours'. His brothers are so jealous that they sell him into slavery pretending that he has been killed. While working for Potiphar, Joseph gets himself into trouble and is thrown into jail. In prison he starts to interpret the dreams of his cellmates and due to his talent, he comes to the attention of the Pharaoh, rising through the ranks of power in Egypt. 
Many years later a chance meeting with his brothers, who don't recognise him, allows Joseph to test whether they are truly sorry for their actions. Will the family be reunited?
With classic songs such as Any Dream Will Do, Close Every Door to Me and Go Go Joseph, it is a musical which is sure to get everyone excited.
Stalls
Adults £19 | Members £17 | Under 18s £12 | Family ticket £60 (2 adults & 2 under 18s)
Gallery 
Adults £17 | Members £15 | Under 18s £12 | Family ticket £55 (2 adults & 2 under 18s)