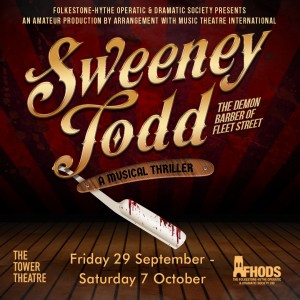 Friday 29 September - Saturday 7 October 
FHODS are delighted to be presenting this musical production of Sweeney Todd: The Demon Barber of Fleet Street, one of the greatest shows by Broadway legend Stephen Sondheim. Dark, witty and macabre, with a cast of unsavoury characters, Sondheim's Tony-award winning musical promises a superbly entertaining night out!
Sweeney Todd: The Demon Barber of Fleet Street tells the tale of a resourceful pie shop owner and a vengeful barber out for blood.
After fifteen years of wrongful imprisonment by a corrupt judge, Sweeney returns to London seeking his long-lost family, and forms an unlikely partnership with Mrs Lovett, who serves up pies underneath his former shop. Together, they wreak havoc on Fleet Street, and with the addition of a key ingredient, serve up the hottest – and most unsettling – pies in London.
Parental guidance advised - contains scenes that some may find distressing. Recommended 13+ 
Stalls
Adults £19 | Members £17 | Under 18s £12 
Gallery 
Adults £17 | Members £15 | Under 18s £12 
Doors open one hour before each performance