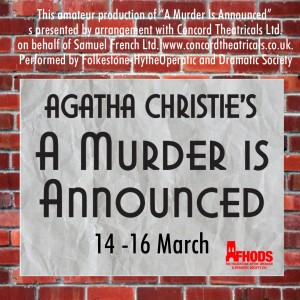 Thursday 14 March - Saturday 16 March 2024
FHODS are delighted to present Agatha Christie's 'A Murder is Announced', for their first play of 2024.
An announcement in the local paper states the time and place of an imminent murder. When an unknown visitor to Miss Blacklock's Victorian home dies under the prescribed circumstances, Miss Marple turns up to solve the case.
Set in a post-war Chipping Cleghorn, a quintessentially British Village, while rationing is ongoing and the threat of socialism looms.
A Murder Is Announced is a work of detective fiction by Agatha Christie, first published in the UK by the Collins Crime Club in June 1950 and adapted for stage by Leslie Darbon.
Stalls      
£17 | Members £15
Gallery   
£15 | Members £13
Doors open one hour before the performance