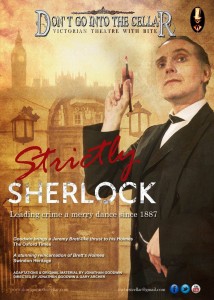 STRICTLY SHERLOCK
Join the king of the detectives as he brings to life some of his greatest and most baffling cases. This original one-man show has been adapted from the originals written by Arthur Conan Doyle. We eschew the excesses and deviations of other adaptations and return to the original source material. Expect nothing but Strictly Sherlock!
So, leave this weary, workday world behind, Ladies and Gentlemen, and join us at
The Dragon Theatre for some good old-fashioned thrills, chills and chuckles.
But remember, whatever you do – DON'T GO INTO THE CELLAR!!

Jonathan Goodwin 
was awarded The Hamilton Deane Award from The Dracula Society for his acting work last year. Previous winners have included Benedict Cumberbatch, Christopher Lee and Denholm Elliott. 
Saturday 3rd September 2022 @ 7pm.
Tickets £15.
Book
Venue The Dragon Theatre
Jubilee Road
Barmouth
Gwynedd
LL42 1EF