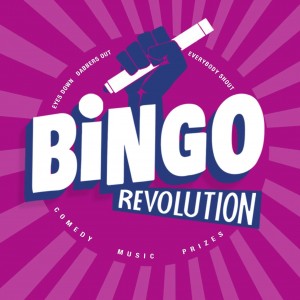 BINGO REVOLUTION
 COMES TO KING'S LYNN THIS CHRISTMAS and you should be part of it and bring your friends!
Come to the Biggest Christmas Party of 2022 and 
experience the magic of 
THE BINGO REVOLUTION
 and perhaps maybe, Boogie and Bingo!  
Expect a fun packed night of laughing, dancing, singing, dabbing and life changing* prizes and be part of the revolution.
The hosts for the evening will be a top comedian who will be assisted by Glamorous Granny Fanny  who is in charge of all the prizes and surprises, including a hilarious pig throwing contest!  DJ Jim Slipp is in charge of the tunes and will play the best of 80's & 90s chart toppers.
In the event of draws, there will be lip sync battles,  dance offs and pig throwing contests!
*Prizes are not life changing, but a 6ft dinosaur will make your life better!
bingorevolution.co.uk
Click Here to experience Bingo Revolution https://youtu.be/XXHh7rNXTiw
Licensed Bar open all evening --- Not to be missed — Now booking   

AGES STRICTLY 18+ ONLY
This show is Unreserved Seating.
For any enquiries or disabled bookings - please call OEP Live! on 
01256 416384
You can find all our shows on Facebook: 
www.facebook.com/oeplive
. Please do take a look and Like our page.
Saturday, 10th December 2022
Show:
8.00 PM Doors: 7.00 PM (Approx finish time: 10.30pm)
Tickets:
 Unreserved Seating £19.25 (inc booking fee)