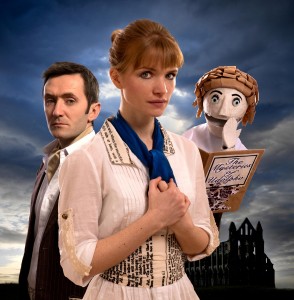 Through a remarkably faithful, award-winning adaptation of Jane Austen's classic work, Box Tale Soup will transport you into a world of gothic romance.
With just two performers, seven beautiful handmade puppets and a vintage trunk, this unique version of 'Northanger Abbey' ignites the imagination and brings out every last drop of Austen's wit, playfulness and humour.
★★★★ The Times "...Austen must be smiling down."
★★★★★ ThreeWeeks "...brilliant, dynamic and laugh-out-loud."
★★★★★ The Latest "...a triumph of stagecraft."
Must See!
The Stage "...note perfect...brilliantly portrayed."
Box Tale Soup are also at The Swallow Theatre on Sunday 30 April, 3pm, with their vibrant adaptation of G.K. Chesterton's
Manalive!
Saturday 29 April 2017 - 7.30pm
Tickets :
£13.50
Recommended age
: 12+
Show length approximately 100 minutes including an interval.
Tickets have sold out.
You might enjoy
Manalive!
by the same award-winning theatre company here tomorrow at 3pm.