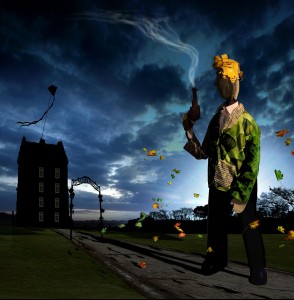 Award-winning Box Tale Soup present with G.K. Chesterton's Manalive!, featuring beautifully hand-crafted puppets and stunning original music.
Beacon House, a broken-down boarding establishment, and its bored, brooding tenants, are about to receive a visitor...Someone who will turn their little lives upside down and show them a world of wonder they had long forgotten.
But what if their new guest is not all he seems? What secrets lie beneath that bright exterior? How can you trust a man whose name... is Innocent?
"G.K. Chesterton's tale is brought to vibrant and cheerfully eccentric life with Box Tale Soup's characteristic ingenuity." The Stage
"...a performance that's joyful to watch." FringeGuru
"They are wonderful." The Times
"...their shows are like collectors' items" The Stage
Box Tale Soup are also here at The Swallow Theatre on Saturday 29 April, 7.30pm with their laugh-out-loud adaptation of Jane Austen's gothic novel '
Northanger Abbey
'.
Sunday 30 April 2017 - 3.00pm
Tickets :
£13.50 (Friends' Early Bird - £12.50)
Recommended age
: 12+
Show length approximately 90 minutes including an interval.
Two show offer!
Buy with
Northanger Abbey
for £24 (Friends' Early Bird £22) - a saving of £3.
To buy the Two Show Offer please click here
.