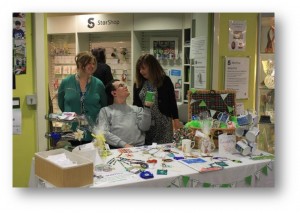 Friday 21 October 2022 at National Star College, 10am-3.30pm
Free Entry with a ticket

The Transition Event offers an invaluable opportunity to see the wide range of services and products available, both locally and nationally, that can help students and their families access the support and opportunities they need to make a successful transition in the future. Come along to browse through the providers, to ask advice about specific challenges from the specialist organisations and also to meet and talk to other parents about their experiences.

We appreciate that some students and other visitors may find busy, bright and noisy environments challenging.  We will provide a sensory impairment friendly session to assist the accessibility of this event from 10am - 11.00am.  During this time we are reducing the numbers accessing the event.  We ask staff, stall-holders and leads for activities to keep noise and chat to a bare minimum.  Lighting will be reduced to create a more inviting ambience. We request that visitors only attend during the sensory impairment friendly hour if they or their child would benefit from the reduced numbers, noise and lighting.

This will be a unique event that provides an exclusive opportunity for parents carers and learners to visit this "one-stop-shop" to access a wide network of exhibitors and contacts to prepare for life beyond college. Previous exhibitors include legal firms, specialist residential facilities, various therapy providers, charities and organisations offering advice and assistance, disability activity providers and much more.

For more information please email transitionsevent@nationalstar.org.