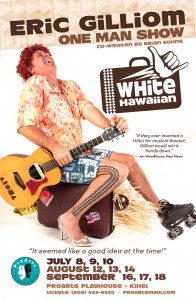 Starring Eric Gilliom
"The coconut didn't fall far from the tree!"
This smart and witty one-man show debuted at the Maui Arts & Cultural Center in late 2019 to rave reviews and three sell-out runs. We are so happy to bring the White Hawaiian to the ProArts Playhouse in Kihei for a three-month residency starting July 2022. 
Written by Eric Gilliom & Brian Khone
July 8, 9, 10
August 12, 13, 14
September 16, 17, 18
Friday, & Saturday shows start at 7:30pm and Sunday shows start at 2:00pm
An entertaining autobiographical stage-show that covers the career of Eric Gilliom, his Maui upbringing as a Caucasian with Hawaiian roots and the TV, film, and Broadway roles that have given him hilarious stories to share.
Furiously donning outlandish wigs with gaudy costumes, the story unfolds from his great grandparent's to his grandparent's on down to his parents then seamlessly into growing up with his six-time Grammy nominated sister, Amy Hānaialiʻi Gilliom.
The reliving of his career, highlights and follies, make the full circle story even more rich and entertaining.
Since 1902-ish
The White Hawaiian has been in the making since the turn of the century when Eric Gilliom's great grandfather, Louis Bucklemen Woodd, a barefisted boxer from Canada, landed on the shores of Maui's Kahului Harbor by sheer drunken luck.
It's here he met his beautiful Hawaiian maiden, Jennie Ho'okano Ka'āhanui. They had five children with one being Eric's grandmother, Jennie Ka'āhanui Woodd.
At a very young age Eric's grandmother started entertaining with hula performances. She took the stage name Napua and hit the road. Over the years she performed on ships and in various cities throughout the United States.
In New York City Napua meets Lloyd Holmer Gilliom, the first trumpet player for the Sammy Kaye Orchestra. It was a wild ride that gave her Eric's father, Lloyd Brent Gilliom. With baby Lloyd in tow, she continued her flourishing career. In the late 1940's Napua found herself in the middle of Hollywood where she had opportunities in film, TV and dance.
For young Lloyd growing up on the road gave him a different perspective of life so that when he spotted the woman he wanted to be his wife, Marilee, he relentlessly pursued her until she agreed to marry him. Three kids later and the family entertainment story continues on.
Being around Napua's performances at an early age opened the door for Eric to follow in his grandmother's footsteps. Finding his tribe in the performing arts, Eric has accumulated a portfolio of some really great hits and some disastrous flops that can only be told as hysterical historical recollections by Eric himself.
Tickets $40 
$60 VIP (swag bag plus best-view seats in small groups with their own side tables)
Run time: 75 minutes
Photo by Tony Novak-Clifford
For information on our Access for All initiative, please go to ProArtsMaui.com/Access-for-All/
*Patrons are required to follow all current CDC, local and state guidelines while on premises.