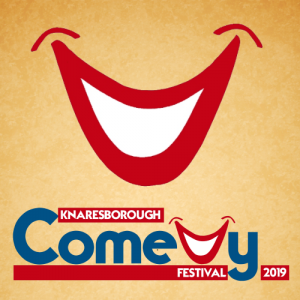 On Saturday 20th July it's a first for the Knaresborough Comedy Festival, as we present our first ever comedy play! Real-life husband and wife Rob Rouse and Helen Rutter won huge plaudits for their first play last year and their second effort sees them discuss what happens when stand-up gets too close to home. Then, following a massively popular debut at the Frazer Theatre Comedy Club last year, the legendary Boothby Graffoe presents a brand-new best-of show. Can a show be brand-new and best-of? Boothby intends to find out!  
Tickets are £10. Multibuy offers are available (see below). Doors open at 7.30pm, show starts at 8pm.  
Rob Rouse and Helen Rutter – Funny In Real Live (Work in Progress)
A stand up comedian sees his world fall apart when his wife decides he can no longer mention her onstage. Should anything be off-limits in the realm of confessional comedy? Is it OK to overshare with an audience of complete strangers? How would you feel if your life was turned into a joke?
After last year's hugely successful run of their debut play - 'The Ladder'- real life married couple, Rob Rouse ('Bottom' in Upstart Crow, BBC) and Helen Rutter (Holby City, Coronation Street) return to Edinburgh with their brand new show.  
"Hilarious. Unforgettable." - British Theatre Guide
Boothby Graffoe - The Best of (Work in Progress)
Boothby Graffoe will be spending an hour or so singing songs he's sung before and some new ones he's written specially and songs that come into his head on the night and will probably never be sung again. And saying funny things he's said before and funny things things that he's written specially and funny things that come into his head on the night and will probably never be said again.
They call it a Work In Progress. He calls it the show he's been doing for over 30 years. He sells out gigs all over the country. See him at the theatre in Knaresborough on 20th July and find out why.
"Should have his own TV show. He writes great gags, improvises as well as anyone, plays the guitar and sings songs that are both beautiful and funny" - The Guardian
"Boothby Graffoe is a multi-talented, darkly hilarious, grade A British eccentric, who can twist your funny bone one minute, and break your heart the next. A musical comedy act who is more musical than most musicians, and funnier than most comedians." - Stewart Lee  
Knaresborough Comedy Festival 2019
In 2019 the Knaresborough Comedy Festival will take place over two weekends in July giving the chance to see eight fantastic comedians.  
There will be a double bill show at 8pm on the Friday and Saturday nights, each with two full Edinburgh Festival previews.  
The full festival line up is:  
Friday 19th July 8pm                      Harriet Dyer and Lou Conran Double Bill 
Details
Saturday 20th July 8pm                  Rob Rouse & Helen Rutter and Boothby Graffoe Double Bill  
Details
Friday 26th July 8pm                      Tom Toal and Mark Simmons Double Bill  
Details
Saturday 27th July 8pm                  Maisie Adam and Alfie Moore Double Bill  
Details
Ticket prices are:  
All Shows Maxi Ticket                   £32        (All 4 double bill shows) 
Details
Weekend Double Bill Ticket          £18        (Both double bill shows in the chosen weekend)  
Weekend 1 Details
Weekend 2 Details
Individual Double Bill Ticket          £10
All tickets are available from our online box office or by calling 07835 927965 (payment will be taken at time of booking).  
Individual Double Bill Tickets will also be available in The Olde Chemist Shop, Market Place, Knaresborough.