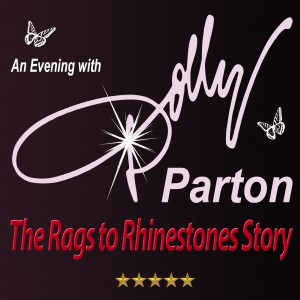 On Saturday 9th December, Frazer Theatre Music presents An Evening with Dolly Parton: The Rags to Rhinestones Story - Christmas Special.
Tickets are £16 + £1.60 booking fee. 
Doors open at 7pm and the show starts at 7.30pm.
The Rags to Rhinestones Story CHRISTMAS SPECIAL is a dynamic, high energy one-women production that is widely accepted as the foremost tribute to Dolly Parton. It is performed by the award-winning Julia Martin, and has been delivered to audiences around the world, with standing ovations on every occasion. Julia was presented with the accolade of the UK's No1 Dolly Parton tribute by the National Tribute Music Awards (NTMA), and after appearing live on Sky Television Julia was described as 'Phenomenal & Outstanding'. The show has been described by audiences as totally authentic in every way, and not only captures Dolly's incredible stage presence, mannerisms, charisma, and unique comedy one-liners, but also delivers a spectacular evening of entertainment, that no Dolly fan will want to miss.
In a tribute to Dolly's unparalleled appeal, this show will combine stunning sequined replica costumes, classic hit songs, including Dolly's Christmas hits, and a portrayal of Dolly's epic Glastonbury performance, into a sensational production. Julia struts across every inch of the stage, quite simply redefining the word crowd-pleaser, delivering a performance of foot stomping entertainment and banter, guaranteed to enthral the audience from start to finish. With the use of video screen technology, and a combination of audience interaction, flashing tambourines, virtual onscreen duets with other Country Stars, and vocals direct from the Blue Ridge Mountains of Tennessee, this show will take the audience on a musical journey through the outstanding singing career of this singing legend. With meticulous attention to detail, Julia will weave her magic and deliver a show that makes the audience feel that Dolly herself is actually in the room. 
'All I can say is OMG! the show was AWESOME!!!'
SKY TV Cruising with the Stars
'What a Performance'
The Stage
'I don't think Dolly could have put on a better show' 
Alban Arena