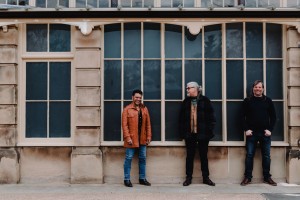 Peter Knight's Gigspanner are a unique force in British folk music. Their high-energy, virtuosic performances appeal equally to traditionalists and to those looking for something more experimental, and they have garnered praise from publications as varied as fRoots, The Telegraph and The Wire, where they were described as '
melodically folk-rooted yet open and innovative beyond the constraints of genre.
'  
The trio was formed by Steeleye Span's legendary fiddle player Peter Knight, a musician who was much admired by the late author Sir Terry Pratchett, and who with typical lyricism observed "
Peter Knight can spin the world on his Bow
".   
The band has gone on to establish a reputation for being one of the most genuinely ground-breaking forces on the British folk scene, inspiring Maverick magazine to write "
Gigspanner are pushing at the boundaries, expanding the possibilities and in the process making some of the most beautiful music the genre has to offer
". Their most recent album 'The Wife of Urban Law' was listed in several 'Best Of Year' lists, including Mojo Magazine, who named it as one of the Top Ten Folk Albums of the year.  
Characterised by riotous inventiveness, technically gifted individual playing and subtle collaborative interaction, Gigspanner take self-penned material along with music rooted in the British Isles and beyond, with the flick of a bow, a finely chosen chord or slip of a beat, produce richly atmospheric arrangements, with notes seemingly plucked from the stars and rhythms from the equator.
"One of the most quietly brilliant sets of musicians in the folk world and beyond" - 
Folk Radio UK
"Gigspanner has taken traditional tunes as a starting point and rearranged, orchestrated and improvised around them to create fascinating new works. Their increasingly impressive sound is like no other" - 
Folk Radio UK
"Gigspanner are a band who get better with every outing, studio or live, and this album cements their standing as one of the most interesting, vital and exciting outfits on the scene. Outstanding"
5***** Maverick Magazine
"Gigspanner are reshaping tradition in fascinating ways"- 
fRoots Magazine
"A glorious musical tour de force...simply exquisite"
4**** Spiral Earth
Saturday 5 November 2022 - 7.30pm
Tickets:
 £18