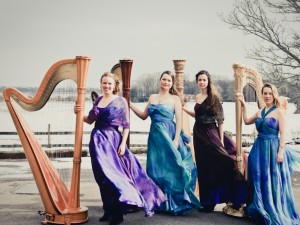 Back by popular request the celestial sound of the 4 Harps in a seasonal programme of music, old and new.
The 4 Girls 4 Harps (Ruby Aspinall, Elizabeth Bass, Keziah Thomas, Eleanor Turner) Christmas concert will include music by Massenet and Bizet alongside seasonal favourites.
Anon:
Gaudete-Christus est natus
Mykola Leontovych:
Carol of the Bells
Edward Caswall:
See Amid the Winter's Snow
Arranged by Eleanor Turner, Elizabeth Scorah and Harriet Adie
Bizet (1838-1875):
Entr'actes I, II and IV from Carmen
Arranged by Harriet Adie
Massenet (1842-1912):
Elegie
Arranged by Harriet Adie
Harriet Adie:
A Christmas Suite
The Holly and the Ivy
We Three Kings of Orient Are
In Dulce Jubilo
The Angel Gabriel
Sussex Carol
Have Yourself a Merry Little Christmas
Arranged by Harriet Adie
Tickets:
£15
Wednesday 7 December 2022 - 1pm
Lunch is now separate from the concert ticket.
Lunch may be purchased in the Café before or after the concert.
Please email communitycafe@riverhousebarn.co.uk to reserve a table.