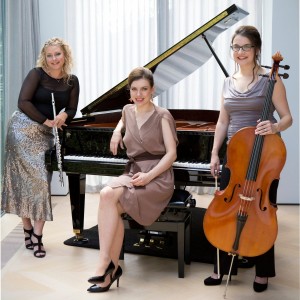 The London based Trio was formed in 2009 by graduates of the Royal Academy of Music. The trio takes its name from Greek mythology - inspired by Marsyas, the celebrated pipe-playing satyr who dared to challenge and defeat Apollo in a musical contest.
In line with current restrictions these concerts will play to socially distanced audiences seated around tables. Lunch will be served at 12.30pm and an hour long concert will follow at 1pm.
All tickets must be pre-booked. The concert will also be stream: please see 
https://riverhousebarn.co.uk/lunchtime-concert-marsyas-trio/
 for details.
Amy Beach
- Pastorale & Caprice 'Water-Sprites', Op. 90 5'
Undine Smith Moore
- Afro-American Suite 14' Louise Farrenc - Trio for Flute, Cello and Piano Op.45 23'
Cecilia McDowell
- Not Just a Place "dark memories from an old tango hall" 7' 
Wednesday 14 October 12.30pm lunch for 1pm concert
Tickets
: £25 Concert and Lunch (to include 2 course lunch), £15 Concert only
Please book 'bubble' tickets in groups that can be seated together if you are a coming as a couple or group.