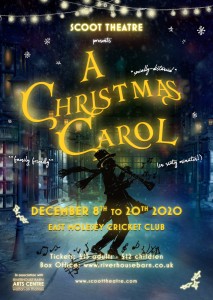 Join Scoot Theatre this festive season for Charles Dickens' classic Christmas story, as you've never seen it before!  Three actor-musicians bound through this sixty-minute, light-hearted, family-friendly adaptation filled with music, song and dance to get you firmly in the Christmas 'spirit'. 
Scoot Theatre's brand new adaptation, written by Scoot founder Max Hutchinson, is a play-within-a-play:
"Legendary star of stage and screen (in his own opinion), Darren Broccolis, has not only written and directed his own version of A Christmas Carol but has also now cast (some may say typecast) himself as the main part - the infamously miserable old miser, Ebenezer Scrooge. Unfortunately, having spent almost the entire budget on a lavish, historically accurate Victorian costume for himself, he is forced to enlist the help of a very keen (and very inexpensive) young actor and his painfully shy niece (free) to play all the other parts. Will this 'star vehicle' prove to be the comeback Darren so desperately seeks? Will his co-stars push his patience to the brink? Or could Darren, rather like old Scrooge himself, learn the true meaning of Christmas and the value of community along the way?"
Staying [fairly] true to the original tale, Scoot's mischievous take on this classic is the perfect way to kick off your festive period. With mulled wine and mince pies on offer and Christmas trees available to buy on site, why not make it a proper Christmas day out!?
East Molesey Cricket Club host Scoot Theatre once again after their successful summer run of 'A Midsummer Night's Dream' and recent 'Songs from the Musicals' evenings.  Performances will take place inside a heated marquee and will adhere to all COVID-secure regulations, including regular cleaning, e-ticketing and temperature checks. Audience capacity is greatly reduced to allow socially distanced seating and bookings are limited to six per group.  Masks must be worn inside the marquee. Please make all bookings under the same name and specify (using the appropriate ticket option on the site) who is family bubble and who is social bubble within the group. 
Praise for Scoot Theatre:
****  "I loved it" - The Telegraph 
"A really entertaining production which was accessible for all ages…Hilarious" – The Family Stage
"The highlight of this odd summer. Absolutely brilliant" – Audience member
"Best night out since the lockdown" – Audience member
Venue: East Molesey Cricket Club, The Memorial Cricket Ground, Graburn Way, East Molesey KT8 9A
Show Schedule:  
December
Tuesday 8  – 5pm and 7.30pm
Wednesday 9 - 5pm and 7.30pm
Thursday 10 – 5pm and 7.30pm
Friday 11 - 5pm and 7.30pm
Saturday 12 – 5pm and 7.30pm
Sunday 13 – 2pm, 5pm and 7.30pm
Tuesday 15 – 5pm and 7.30pm
Wednesday 16 – 5pm and 7.30pm
Thursday 17 – 5pm and 7.30pm
Friday 18 – 5pm and 7.30pm
Saturday 19 – 2pm, 5pm and 7.30pm
Sunday 20  - 2pm, 5pm and 7.30pm
Ticket Prices:
£15 Adults
£12 Child (Under 18)
Family Ticket £50 (2 Adults and 2 Children)
Most suitable for age 7+
Maximum of six tickets per booking (chose either individual or family bubble tickets to help us seat everybody according to covid regulations)
Please note that tickets will be fully refundable in the event that the performance cannot go ahead due to government directives.