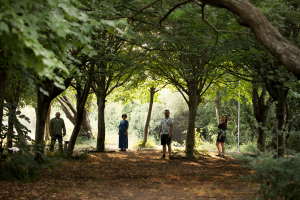 Road Not Taken are a Bristol-based four piece starting to make waves on the UK folk scene. Having honed their craft over a number of years of performing live, they released their debut album Fragment in 2019. 
From humble beginnings in 2014, after coming together to perform at Downend Folk Club in North Bristol, the band has seen a rapid rise, soon finding themselves supporting the likes of Lady Maisery, India Electric Co. and Jim Moray, and spreading their wings further afield with performances at festivals including Oxford Folk Weekend, London and Bristol Folk Festivals, and Beardy Folk Festival. 
The band performs a mix of original material and inventive and atmospheric arrangements of traditional folk songs and tunes, "songs given enough of a twist to make them something new. It feels as though they've been draped in glittering cobwebs and that is a very fine thing indeed."
Road Not Taken are singer Anita Dobson, fiddle-player Claire Hamlen, guitarist Ant Miles, and multi-instrumentalist Joe Hamlen.
Sunday 11 September 2022 - 12.15pm
Tickets:
£13