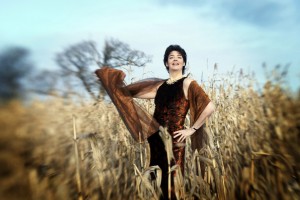 Join Hilary Summers, a ridiculously tall Welsh contralto with three octave range and a Grammy award winner, and Andrew West, a slightly shorter, fabulous English pianist, for an hilarious romp through the highs and lows of opera.
Absurd plots, gender fluidity, modern music and voice categorisation will all come under scrutiny, and the performance culminates in Summers/West Productions' Essential Magic Flute.
Hilary Summers is one of Britain's leading contraltos and performs regularly around the world. She was a soloist on two occasions at the 2019 BBC Proms.





Programme to include:
An Introduction to Baroque Opera;
I'm a Puccini Heroine Addict;
Throughly Modern Hilly;
Dido's Lament (Purcell);
Carmen's Seguedillia (Bizet);
AND
The acclaimed Summers/West production, 'The Essential Magic Flute' - a one-woman, 25-minute reduction of Mozart's masterpiece!
Wednesday 29 June 2022 - 1pm
Tickets: 
£15
Lunch is now separate from the concert ticket.
Lunch may be purchased in the Café before or after the concert.
Please email communitycafe@riverhousebarn.co.uk to reserve a table.
Social distancing measures will be in place, in line with government guidance at the time.