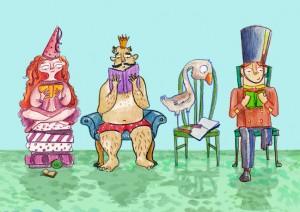 Apollo Theatre Company presents Hans Christian Andersen:  
The Ugly Duckling & Other Stories
From the pen of one of the greatest children's authors of all time, come four of Hans Christian Andersen's most well loved stories: The Ugly Duckling, The Princess and the Pea, The Steadfast Tin Soldier, and The Emperor's New Clothes. 
Learn how one little grey duckling went from social outcast to king of the pond, how a tiny pea helped a lonely prince find a wife, how a one-legged tin soldier embarked on an epic adventure, and how an arrogant emperor ended up walking the streets with no clothes on! 
With tales of friendship, love and plenty of silliness, there  is something for everyone in this brand new production, guaranteed to captivate the child in all of us. 
An original adaptation by Joseph O'Malley  
This charming original production first began life in  2017 with a short UK tour. It is set to be revived for a  Christmas run at the Lichfield Garrick prior to a tour during February half term. 
Combining music, puppetry and a whole heap of mischief, this is the perfect half-term treat for primary school age children.
Thursday 16 February 2023 - 2pm and 4pm
Most suitable for ages 3-9 
Tickets:
£10 (child)
£12 (adult)
Family ticket of £25 for one adult and two children