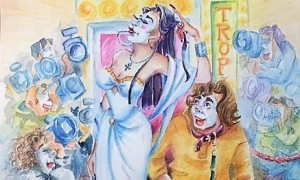 This new comic dystopian allegory is set in 2084, on the fictitious island of Abatina in a world where people are either glamorous celebrities or slobbering dog-like followers, gripped to their 'telepafones' – with the exception of the Nevnops (Not Very Nice People), as the President, Big Al, calls them.
The story follows Tina who enters 'Marriage Maker', a 'telepavision' gameshow. The idea of the game is if you win you get to marry the super-glamorous footballer, Harry Best, on the Saturday, have a weekend of love, then divorce him on the Monday. 'All the fun and no ties!' as the compere, Rich Nobb, puts it.
Unfortunately, Tina makes the mistake of falling in love when she wins and doesn't want to divorce. Doreen, her best friend, has her own opinion, but then she might be a Nevnop and the Mind Police might get to her first and send her to the wolves on the 'Other Side' – a dangerous world over 'the mountain' where the inhabitants of Abatina must not go - according to Big Al - with dangerous free-thinkers & wolves that might get them.
 
Unlike in Orwell's '1984', this dystopia isn't just about keeping to the 'party line', but is a world where people's minds are controlled by a trashy 'Donald Trump' kind of reality - with love reduced to a gameshow and marriage a mere ritual convenience -  this world shows a lack of independent thinking, a 'group mind' controlled by faceless overseers through an all-consuming social media.

It is very funny but also provocative. We want people to have a good laugh as they recognize things and watch the way characters morph into slobbering dogs, but we also want them to think about what love and marriage really are, and about the way the perception of women especially, but men too, can be warped into this kind of caricatured, crass, or 'canned' conception of reality.

Will Tina get Harry to love her? Will Doreen get 'disappeared' by the Mind Police? You'll need to be there to find out.


Sunday 12 June 2022 - 7.30pm, outdoors
 Riverside Park, Manor Road, Walton-on-Thames KT12 2PF
Book Tickets on the Rude Mechanicals website here
For more details about this performance visit the Rude Mechanicals website