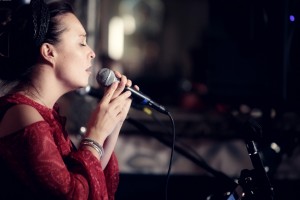 Epsom duo Dragonfly Sky bring their acclaimed singer-songwriter night to the Riverhouse Barn! Showcasing the very best songwriting and performing talent in a beautiful intimate setting.
'A wonderful intimate acoustic night of authentic musicians and entertainment - Something for everyone' 
Zack Q  
Tickets:
£15
Thursday 23 February 2023 - 8pmDragonfly Sky
Dragonfly Sky are an exceptional duo from Epsom, Surrey, with lush harmonies and an incredibly alluring stage presence. Well crafted songs with passionate vocals and skilled musicianship.
Kev Minney
Born and raised in Northampton, UK, Kev Minney is a singer-songwriter with a unique voice and virtuoso guitar skills. His songs emanate straight from the heart, evoking emotion, that brings us stories of tenderness, grit, hope and authenticity. He's isn't a person to follow trends, and that has led him to create his own artistic path.
'A VERY PROMISING FUTURE' - Guitarist Magazine
'BEAUTIFUL & INTELLIGENT' - Folk Radio
'AN ALBUM OF MUCH BEAUTY' - Acoustic Magazine
'BEAUTIFUL, DENSE, HYPNOTIC' - BBC Radio 6 Music
Tomorrow Bird
Tomorrow Bird is an award-winning acoustic duo, featuring the combined forces of Jen Bird and Simon Driscoll. 
Each of their songs are a passionate ode to the human experience...  They sing of hope, love, loss, courage and empowerment; creating stories and melodies rendered all the more poignant by the duo's rich vocals and seamless harmonies. 
Drawing musical influences from folk, country and Americana bands (such as The Civil Wars) their haunting melodies and heart-felt lyrics have transfixed audiences and marked them out as a band to watch!
Nora Anna
Nora Anna is a voice that soothes, engages, surprises, makes you fly, meditate, plunge in a lake of melancholy, wander away somewhere deep inside your thoughts and then rise and fall in love with the little moments and pleasures of everyday life again.
She is a Latvian singer-songwriter with an open heart and mind who's already familiar with international audiences, having played in multiple gigs around the UK, France and Latvia, as well as in festivals like Weyfest, Staycation and Always The Sun festival.
Nora Anna's music is as rich as her personality. She says her songs are ''little nostalgic story-telling hybrids'' because they have a bit of everything - pop, jazz, blues, folk and most importantly, a story that will make you drift into your thoughts.