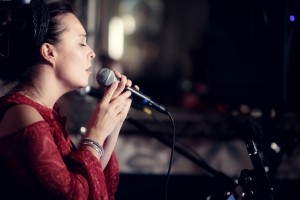 Epsom duo Dragonfly Sky bring their acclaimed singer-songwriter night to the Riverhouse Barn! Showcasing the very best songwriting and performing talent in a beautiful intimate setting.
'A wonderful intimate acoustic night of authentic musicians and entertainment - Something for everyone'
Zack Q  
Tickets:
£15
Wednesday 25 October 2023 - 8pmEd Blunt
Ed Blunt's music evokes classic Tin Pan Alley songwriting with a lyricism that reaches from the introspective to the universal. Whilst rooted in the Americana and folk worlds, his music crisscrosses genres— bearing comparisons with Paul Simon, James Taylor and Randy Newman. Described as "brilliant" by Chris Difford of Squeeze, Ed has worked with some of the world's biggest artists including Tom Odell, Westlife and Niall Horan.
Anouska Assisi
Anouska Assisi is an award-winning singer-songwriter whose music is a compelling hybrid of folk rhythms delivered with soul and lyrical authenticity. Proving naturally gifted musically from an early age, Anouska has been writing, performing, recording and producing her own material since the age of 12, amassing an impressive body of work. Taking her inspiration from the likes of Coldplay, KT Tunstall, and Ed Sheeran, Anouska uses her voice, a guitar and loop station to perform live, building song arrangements on the spot. 
Sandy Mclelland
Throughout a long and respected music career, Scottish singer-songwriter, Sandy McLelland has contributed to the artistic achievements of numerous artists and projects all over the world. Comfortable across many diverse musical styles his songs are sometimes full and vibrant and sometimes can be achingly bare and personal. The all acoustic sound of Sandy McLelland unashamedly pays respect to the American country, blues, folk and soul music he absorbed in his early days in Glasgow.
Dragonfly Sky 
Dragonfly Sky are an exceptional duo with lush harmonies, infectious melodies and an incredibly alluring stage presence. Since August 2022 they have been on a mission to host and introduce exceptional acts in intimate and stunning venues with their showcase sessions 'Dragonfly Sky Presents'