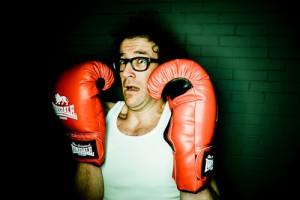 Friday 26 April  8pm
Line-up includes Josh Howie, Alistair Williams and William Stone.
Josh Howie
 is the writer and star of BBC Radio 4's sitcom Josh Howie's Losing It and he is presently on his UK tour with his show - Josh Howie's Messed Up.  We're fortunate that he's found a free moment to MC for you.  He's a much in-demand stand-up comic, performing regularly at all the major comedy clubs around the UK, and has had sell out runs at the Soho Theatre.  Unlike the title of his show, we don't think we've messed up at all in booking him.
"Howie is brilliantly clever, honest, utterly engaging and absolutely fearless. ★★★★★"
- The Scotsman
Alistair Williams
 describes his comedy style as the ramblings of a moron which we very much doubt as he is highly regarded as one of the most exciting acts on the UK comedy scene.  Alistair tells it like it is, highlighting how unfair life can sometimes be but you can decide if they are 'just jokes'.  He headlines clubs across the land so he must be doing something right in our eyes. 
William Stone
 is based in Brighton and recently reached the final of the BBC new comedy award, appeared on BBC Radio4 and BBC Radio2.  He is the '
...excellent writer of quirky one-liners'
- Steve Bennett, Chortle.  Frankly, that's all we need to know!
Tour shows:-
Sunday 24 March 8pm: Ivo Graham - Motion Sickness
Friday 5 April 8pm: Danny Buckler - One Man Showman
Saturday 1 June 8pm: The Noise Next Door - Remix
Friday 28 June 8pm - Clinton Baptiste plus Jon Long and MC Tom Deacon