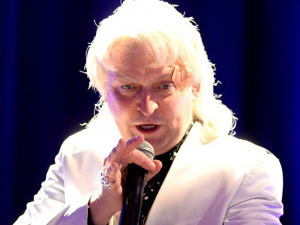 Line up includes Clinton Baptiste, Jon Long, Ryan Dalton and MC Tom Deacon.
Join paranormal sensation
Clinton Baptiste
 as he takes you on a hilarious yet touching journey through his life, out the other side and beyond the Celestial Curtains! Clinton is the hapless clairvoyant, medium and psychic from Peter Kay's Phoenix Nights. Now, some eighteen years after the show aired, he returns to conjure up his extraordinary powers for a new generation.
Clinton will give readings to the audience, offering advice from beyond the grave. He will predict your future, tell you about your past and all manner of spooky stuff an' that....
"Hundreds of years ago when man walked the planet he had no real means of communication. In time man developed a phenomena which has never been fully understood by the psychic community. This phenomena is…Clinton Baptiste'" - 
 Peter Kay (That Phenemona)  
Tom Deacon has been performing live stand-up for the last 9 years – with four Edinburgh solo shows under his belt – and has been the host of his own TV, radio and online shows on BBC2, BBC Radio1, The Capital FM breakfast show and YouTube football channel Copa90 – where his Eurofan escapades have notched up over 8 million views.
Tom has made guest appearances on BBC2's The Rob Brydon Show, Dave's One Night Stand and ITV2's Fake Reaction.
He is currently the host of Gfinity's Elite series. A journey into the world of Esports has led Tom to host on the Sky F1 channel for the first ever F1 sports tournament which took place during the Abu Dhabi Grand Prix of 2017. 
2018 saw Tom performing around the uk and world. It also saw him host season 3 and season 4 of the Elite series, with a special FIFA 18 show in Disney World.

"A mighty fine comic" - The Guardian
"With looks, confidence, charm and great material; expect other comics to lynch him" - The Sunday Times
Jon Long is a stand up and musical comedian, telling jokes and singing songs. A modern day Troubadour, Jon's laid back, affable style and sharp writing have helped him find success in several new act competitions. He is now quickly making a name for himself on the live circuit, regularly performing and MC-ing at the capital's most established clubs, such as The Comedy Store, Top Secret, and Angel Comedy, as well as all round the UK. 
2018 saw Jon hosting the prestigious AAA Showcase at The Pleasance. He makes his Debut at the Edinburgh Fringe 2019 with his show 'Planet Killing Machine'.
Winner of the Musical Comedy Awards 2016 - Audience Favourite Act
Winner of The Comedy Store King Gong 2015
Runner Up - Brighton Comedy Festival New Act of the Year 2015
"Clever gags and witty songs...delivered with laser-guided timing " - Bruce Dessau (Beyond The Joke)

Ryan Dalton started performing stand up in 2013 & after a couple of years, became a regular on the London circuit. In 2017, he beat the gong at The Comedy Store & is now performing at professional comedy clubs around the UK & Ireland. As well as comedy clubs, Ryan also performs at numerous vegan events & has also done TV warm up work for Gfinity Esports on BT Sports.
His quick-witted and character driven stories are performed with an aggressive charm. Ryan brings his frustrations to the audience, whether it be a stories from his life coming out as a vegan to his 'meaty eaty' family or tales of the tricky guests during his time working as a zoo keeper, he tells his stories with the pent-up anger of a criminal yet the voice of an angel.

"One of the funniest and tallest comedians I've ever seen!" – Jarlath Regan
 "Immediately warm, confident & highly amusing!" – Broadway Baby 
Friday 28 June 8pm Tickets
£12.50
Mock Tudor Comedy Club returns on
Friday 6 September
with another fantastic line up that includes 
Sally Anne Hayward, Chris Stokes and headliner Paul McCaffrey..