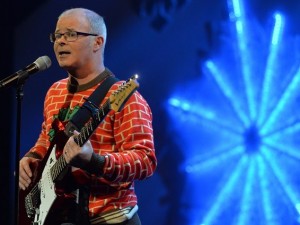 With Andy Askins, David Trent, Sally Ann Hayward & Ross Smith + TBC by The Guardian as
"Like TV Burp if Harry Hill was on PCP"
, David Trent has been blowing minds since 2012 with intelligently depicted yet hilariously explosive observations of modern day pop culture.Smashing on to the comedy scene in 2012 at the Edinburgh Fringe Festival with his debut solo show 'Spontaneous Comedian',he wowed audiences and critics alike with his unique brand of tech heavy comedy and high octane audiovisual onslaught.
'His use of video, animation and repetition is brilliant and unique…genuine originality.' -
Chortle
'A creator of bold, category-defying comedy.' -
Stage
'A first rate comic mind' -
Guardian
'His performances are intense, fearless and original.' -
LondonIsFunny
Andy Askins has an expertly crafted routine littered with an eclectic mix of offbeat original comic songs and parodies. A talented musician with a captivating voice, popular songs have been re-written and given a perverse twist to tremendous comic effect. With a wickedly dry sense of humour, Andy's darker material is sweetened by his innocent and impish demeanour which never fails to leave audiences in the palm of his hand.
On TV screens Andy appeared The John Bishop Show and The John Bishop Christmas Show for BBC One, The Comedy Store for Comedy Central, and two series of The World Stands Up, also for Comedy Central.
"Brilliant and unique" -
John Bishop
"One of my all time favourites"
- Jason Mamford
"Totally hilarious" - Ross Noble
21 year old Kelsey has won the Comedy Cafe New Act Night and has supported Stephen K Amos on his 2015/16 UK tour 'The Laughter Master' . He has also appeared alongside Sara Pascoe, Seann Walsh, Henning Wehn, Jo Caulfield, Luisa Omielan, Nish Kumar, Tom Allen, Ian Stone and Arthur Smith to name a few!
"Opened for me on tour, a superb act to follow. Blown away by his funny, they loved him. Catch him now, he's got it."
- Stephen K Amos
"Wins the audience over immediately with a combination of great material and confidence"
- Glee Club
"Kelsey has pitch perfect delivery and a keen sense of what's funny that many older and more experienced comedians would kill for, and he's damned good with hecklers too."
- David Mulholland, Soho Comedy Club
Ross Smith:
One of my favourite new acts, watch him now so you can be smug in 5 years time when he's big'- Joel Dommett
'hilarious and original- unlike this quote'- Nish Kumar
'Brilliant!- You know an act has confidence in his jokes when he laminates them!'- Jason Manford
'Extremely Impressive, a great deal of promise from this young man'.- Arthur Smith
'Smart and refreshingly clean material, Ross has the composure and likeability to go far'- Julia Chamberlain, So you think You're funny?
Friday 26 Jan 8pm
Tickets £12.50
More Comedy dates for your diary:
Totally Free New Act & New Material Night! - Sunday 14 January 7.30pm
Mock Tudor Comedy Club - Friday 26 January 8pm
Mock Tudor Baby Friendly Comedy Club - Wednesday 28 February 11.30am (doors open, gig starts at noon)
Mock Tudor Comedy Club - Friday 2 March 8pm
Arthur Smith – Live at Riverhouse - Saturday 24 March 8pm