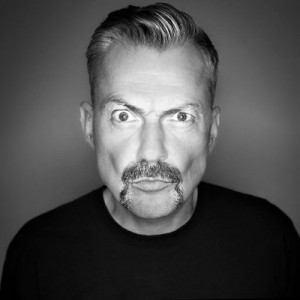 Friday 22 February 8pm
Tickets £12.50
with Ben Norris, Johnny Pelham and MC Susan Murray
It's been a while since 
BEN NORRIS
 headlined at Mock Tudor Comedy Club but then he's a busy man and rarely available.  You might not have seen Ben on Live At The Apollo recently but that is surely a huge oversight on the part of the show's producers.  Ben is a highly experienced and extremely well respected comedian who headlines all the major comedy clubs in the land where he is highly sought after for his improvisational skills and sharply crafted material.  Like us at Mock Tudor, Ben also rides a motorcycle - he doesn't remember the time our venue manager fixed his side mirror enabling him to get home after the gig but we do!
Ben's TV credits include: The Comedy Store (Open Mike), Never Mind the Buzzcocks (BBC 2), They Think It's All Over (BBC 2) and Mock the Week (BBC 2). Okay, a couple of them were a while ago but you may have also heard his voice on high profile ad campaigns or seen him at comedy festivals the world over?  Well, perhaps not the latter if, like us, you prefer to keep your comedy relatively local and more specifically in Walton on Thames!  Whatever your preference, we think you'll agree that we're fortunate to have Ben at Riverhouse on 22 February and we're very grateful that he was able to reorganise his diary to fit us in when we recently invited him to return to Mock Tudor.
"Killer gags"
 – The Scotsman
Also on the bill in February is the really very good 
JONNY PELHAM
.  Jonny began comedy at university and while he was there he achieved runner-up in both the coveted So You Think You're Funny competition and The Chortle Student Comedy Awards. Since graduating Jonny has continued to impress and was a finalist and judges choice in the BBC Radio New Comedy Awards, which incidentally is where we first saw him, as well as being nominated for Chortle Best Newcomer in 2014.
2016 saw Jonny make the exciting step over to the small screen on Russell Howards Stand Up Central for Comedy Central followed by a support slot on Live At The BBC this year.  Jonny has also appeared in the Viceland series, Harriet & Bobby Get Married and Plane Spotting for Turtle Canyon.  With three critically acclaimed solo shows under his belt, Jonny has a number of up-coming television projects in the pipe-line, including a presenting debut and bookings to write across a number of television projects.
And last but certainly not least, we have the 
'feisty fire-headed pocket rocket'
 (Broadway Baby) in the form of 
SUSAN MURRAY. 
 She aptly describes herself as a comedian, writer, actor, f*ckwit, prosecco botherer and nutter magnet (aren't we all?!) amongst others.  She has emerged as one of the best female stand-ups in the UK and was the first ever woman to MC decompression gigs for the British Army.  She is in the top 100 Huffington Post funny women Tweeters.  Susan's written for and was a guest on Jeremy Hardy Talks To The Nation and has also starred in Stephen K Amos' Idiots Guide both for Radio 4. She has penned four successful solo shows at the Edinburgh Festival as well as performing in several comedy plays and sketches.  She made her TV acting debut in the third series of ITV's "The Job Lot" alongside Jo Enright and Russell Tovey.  She is currently presenting on East London Radio and about to go on tour with Britain's Got Talent star Daliso Chaponda.
So all in all, a stonking line-up, but don't take our word for it - why not come along and judge for yourself in February as we know you do like to form your own opinions - how else would we have such a discerning crowd at Mock Tudor?
Other comedy dates for your diary
Mock Tudor Comedy Club -
15 March
with Rob Deering, Barry Castagnola and MC Chris Betts
ROB DEERING
makes what we anticipate will be a triumphant return to Mock Tudor Comedy club on 15th March.  He is the UK's foremost guitar-wielding, loop-layering, stand-up comedian. In fact on a scale of 1-10 we give him a '10' for his guitar playing skills alone which, from an entertainment standpoint, gives him a massive advantage in the eyes any lovely comedy crowd, such as ours! 
Perhaps you know him from one of his myriad appearances in clubs, theatres and festivals throughout the known world, or from a TV or radio near you.  Rob performs stand-up comedy with music, using a guitar, a loop pedal and his voice to create highly impressive rock and pop soundscapes – and do jokes, of course.
Along with being one of the most in-demand headliners on the UK circuit, he's toured nationally and performed solo shows at the Edinburgh Fringe many times since starting out in comedy in the year 2000 (that's 19 years then; we're good at 'math'…).  Rob has performed throughout the world, in shows from the Middle East to Melbourne, Shanghai to the South of France, and he has appeared on any number of Radio and TV shows, often using his extensive knowledge of film, popular music and… well, 'general'; he has won Celebrity Mastermind and a comedians' special of the Weakest Link on BBC One, for example. So no withering 'goodbye' from Anne for him.
He also recently ran all over Britain for BBC 6 Music. Yes, unlike us - for whom the shin splints are a problem - Rob runs, presenting the podcast Running Commentary with fellow running comic Paul Tonkinson, and fundraising for his favoured charity Parkinson's UK; he has run SEVEN marathons. He produces and hosts Parkinson's UK's annual gig Shake With Laughter at London's Comedy Store, where he is also a regular member of the Cutting Edge topical comedy team.  He's married with two children and lives in North London - not entirely relevant for these purposes but we thought you might be interested. 
Also on the line-up is comedian, actor and writer
BARRY CASTAGNOLA
who has firmly established himself as an accomplished comic performer. He has been performing stand-up since blagging his way onto the stage at The Comedy Store in Los Angeles which, it has to be said, is not the more traditional route into comedy via the other LA (Little Addington) but he clearly did very well and since then his easy-going, yet physical, style, enthuses audiences at most of the major comedy clubs in the UK and internationally.  As well as being a popular compere, Barry regularly headlines gigs. He has performed in New York, Ireland, The Melbourne Comedy Festival, Glastonbury and The Reading Festival. TV stand up includes The Stand Up Show (BBC1) and Net.Comedy (Carlton)
Finally, known for being both a quick-witted MC and a superb addition to any bill, including this one,
CHRIS BETTS
has received numerous plaudits for his sharp material and relaxed stage presence.  Chris' mind is a curious place, where the philosophical meets the ridiculous. His shows are a perfect balance of incisive social satire and complete silliness.  He has a style that is equal parts confident, thoughtful, ridiculous and mischievous.  At the time of typing, he also sports a splendid beard - something to which one or two of us at Mock Tudor aspire but have yet to achieve. 
☆☆☆☆
"Amazingly funny"
- The List       ☆☆☆☆
"Outrageous and unpredictable fun"
- Edinburgh Festival Magazine
Tour shows:-
Saturday 2 February 8pm: Suzi Ruffell - Nocturnal
Friday 8 March 7.30pm: Tony Hawks - Playing the Moldovans at Tennis 
Sunday 24 March 8pm; Ivo Graham - Motion Sickness
Friday 5 April 8pm; Danny Buckler - One Man Showman!