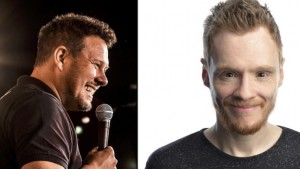 Andrew Lawrence: A Work in Progress

The double Edinburgh Comedy Award nominated stand-up and subject of 2016 SKY Arts documentary- 'The Outcast Comic' pokes fun at Liberal pretensions and the horrors of parenthood in this unapologetically non-PC new stand-up show. As seen on 'Live At The Apollo'.
'A natural-born contrarian.'
-
The Telegraph
'It's fearless. It's funny. It's full of really good jokes.'
-
Broadway Baby
'Brilliant practitioner of his craft, who knows just where to place words for effect, who makes his audience warm to him, and who raises many a laugh.'
Scotsgay
'Andrew Lawrence is superbly intelligent, highly articulate and deeply sour.
'-
The Spectator
Maff Brown
From the writer of Shooting Stars & Mock the Week comes a brand new show with some of the sharpest one-liners you are likely to hear! If you like the "True or False" section from Shooting Stars & "Things we'd like to see" Section from Mock the Week. Then this is the show for you, as Maff writes them!
Voted "top 10 shows to see" by GQ.
"Want an all out laugh-fest with gags-a-plenty? Maff is your man.
A few months back I saw him tear the roof off, generating more joy, more laughter than any arena-selling comedian"
GQ Magazine

23 July 7.30pm
Tickets
£8
Second act to be confirmed