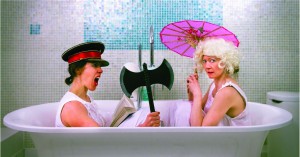 By turns funny and desperately sad, Airswimming is an uplifting story about friendship, fantasy and freedom.
1924: Persephone Baker is planning her coming-out ball at the Dorchester when she finds herself abandoned at St Dymphna's Hospital for the Criminally Insane with only 'unhinged, cigar-smoking, monomaniac' Dora Kitson for company. Forgotten for 50 years, they create alter egos who exist in a surreal fantasy world enlivened by Doris Day, 2000 Bolshevik women, a Moulinex hand whisk and ... Airswimming.
"Captivating, comical, inspiring and affecting ... Airswimming is an admirable piece of theatre that deserves every recommendation"
Broadway Baby *****
"This is exquisite, exceptional acting"
Fringereview "Highly Recommended"
"Spell-binding performances"
LondonTheatre1
"It is testament to both the theatre company, Weird Sisters' conviction and the strength of the play, that something like this is still performed with such assuredness, and talent"
Remotegoat ****
Friday 2 February 8pm
£15 (£13 concessions)
Pre-show meal available £12 a head (book online)