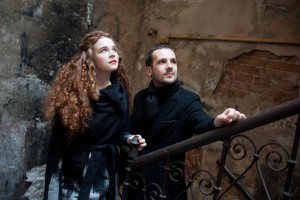 'A Play of Colours and Characters' - Aleksandra Lelek (cello) Maciej Zimka (acordian)
Two brilliant musicians from Poland, winners of many international prizes, combine to provide a haunting sound. Their programme includes music by Bach, Chopin, Szymanowski and Piazzolla in arrangements which surprise and delight.
J.S. Bach – II Sonate for Gamba and B.C. 
F. Chopin – Largo (from Cello Sonate)
A. Piazzolla – Le Grand Tango
K. Szymanowski – 3 Mazurkas Op. 50
C. Saint-Saens – Priere
A. F. Servais – Fantasie et Variations brillantes sur la Valse de Schubert
Saturday April 21 - 8pm
Tickets £12, £10 (concs)