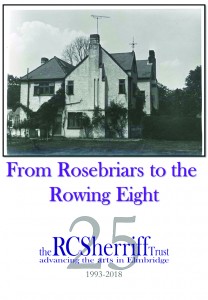 "Driving home one evening, we came by chance to a house surrounded by wide lawns and flower beds. It wasn't a pretentious house. It was low built and looked comfortable and friendly, it was spring, and we felt we were in paradise. It was called Rosebriars."
R C Sherriff bought Rosebriars in 1930 and lived there until his death in 1975. When it was eventually sold, the money was put into a trust, with the aim of supporting and advancing arts in Elmbridge.
For 25 years, the R C Sherriff Trust has supported thousands of residents across the borough, through its grants and projects. This exhibition celebrates the people and initiatives that have helped make the Trust the success it is.
Wed 24 October - Sun 4 November, 10am - 4pm
FREE