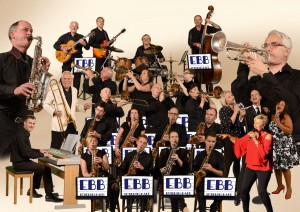 The Ember Big Band is based in Elmbridge and recently celebrated its tenth anniversary!
The band has a wide repertoire ranging from classic swing standards through Sinatra and Buble to modern Latin and funk. The line-up comprises twenty-plus musicians, including alto, tenor and baritone saxophones, trumpets, trombones, bass, guitar, piano and drums - not to mention three impressive vocalists. The musicians are all volunteers - their `day jobs` range from teaching to television production and their ages from 18 – 80. The band performs regularly – sometimes promoting its own concerts, often supporting other organisations and charities.  

Their most recent 'extravaganza', "Live `n` Kickin" - hosted by broadcasting legend Ken Bruce and conducted by Allan Rogers (Musical Director of the "Strictly Come Dancing" live tours) - raised over £25,000 for Shooting Star Children`s Hospice and Princess Alice Hospice.
The band`s original conductor was Bill Geldard, B.E.M, one of the UK`s best-known trombonists and arrangers. After turning professional at the age of fifteen, he played with some of Britain`s most famous orchestras and musicians including The Squadronaires, Ted Heath, John Dankworth, Elton John and David Bowie.

For more information about The Ember Big Band, please visit www.emberbigband.co.uk

Saturday 1 July 2023 - 2.30pm to 4.30pm (with interval), outdoors
Tickets: £10
Free entry for children under ten with parent or guardian.