Riverhouse Summer JazzFest (Fundraiser)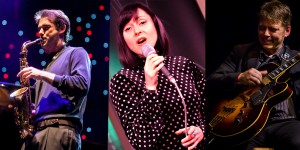 Riverhouse
is thrilled to present our outdoor Summer JazzFest on Sunday, 30th August; join us at Riverhouse to Keep Live Music Alive!
We have a fantastic line-up of Jazz luminaries for you:

1pm - Nigel Price Organ Trio 
Surrey's own award winning jazz guitarist, Nigel Price, brings his organ trio (winner of the 2010 Parliamentary Jazz Awards for "Best Jazz Ensemble") with Ross Stanley on organ and Joel Barford on drums.

3pm - Georgia Mancio Quartet
The sublime and versatile vocalist, Georgia Mancio, together with her award winning collaborator, pianist Kate Williams, (Jazz Album of the Year, 2020 Parliamentary Jazz Awards) and Oli Hayhurst on bass and Dave Ohm on drums.

5pm - Tommaso Starace Quartet
Paying tribute to the late great alto saxophonist, Julian "Cannonball" Adderley, the much-lauded, Italian saxophonist, Tommaso Starace, with an impressive  top rhythm section comprising, Terence Collie, on piano, Ben Hazleton on bass and Winston Clifford on drums.


Tickets (Live Performance at Riverhouse): 
Standard £30, £25 concessions (OAP, students and children 13 and above), £10 (children 12 and under)
Entry to Riverhouse Festival area from 12:30pm.
Our Horse Box Bar will be serving a selection of wines, craft beers, and other refreshments and The Community Cafe will be serving sandwiches, cakes and teas and coffees. 
Donations (
Live Stream Performance):  
Donations to our Covid Appeal are requested in return for watcing the live stream - and a link to register for the stream will be available shortly - watch this space! 
Notwithstanding current circumstances, Riverhouse remains committed to showcasing musical talent through live performances and we look forward to seeing as many of you to enjoy a truly outstanding jazz event.
THINGS TO NOTE:  
Parking for Blue Badge holders only: Blue badge holders can email donna@riverhousebarn.co.uk to book a space.  Where possible, other guests are encouraged to walk or cycle to Riverhouse; there will be some limited parking at Cowley Sale.
We invite you to bring your festival chairs, blankets, small tables; there will be marked seating areas. 
Book
Venue Riverhouse Barn
Manor Road
Walton-on-Thames
Surrey
KT12 2PF