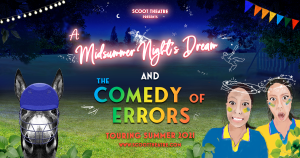 Join Scoot at The Riverhouse Barn for our outdoor, family-friendly, sixty-minute productions of 'A Midsummer Night's Dream' and 'The Comedy of Errors'! Touring the South East, six actor-musicians present two of Shakespeare's favourite comedies, with a Scoot 'spin'! Whether you're 5 or 105, a Shakespeare newcomer or a Bard aficionado – we've got something for everyone!
Why not make an afternoon of it and 'catch' both shows on the same afternoon?
We hope you'll join us for a chat after the performance. We'll be offering a very informal Question and Answer session after each show. This is for anyone who might want to know more about the plays, Shakespeare or theatre in general. It's completely voluntary of course but we'd love to hear your thoughts, reactions and maybe find out what you'd like to see us do next!
The Comedy of Errors (In Sixty Minutes)
"I to the world am like a drop of water
That in the ocean seeks another drop"
Two sets of long lost twins. Finally in the same city. They just don't know it! Separated in childhood, Antipholus of Syracuse is travelling the globe in search of his twin brother. He defies the law by entering the mysterious city of Ephesus, where all Syracusians are banned. Things quickly get spooky when everyone he meets in Ephesus seems to know who he is… Let the confusion and chaos commence!
Expect madness, mistaken identities and slapstick in Shakespeare's classic farce!
Saturday 7 August - 4pm (outdoors)
Ticket Prices:
Adults (18+): £12 (per show)
Children (5+ Under 5s go free): £8 (per show)
Family Ticket (2 Adults and 2 Children): £35 (per show)
You can read our updated Covid-19 policy
here
For more information and FAQs please visit www.scoottheatre.com
IMPORTANT: Please book each show separately if coming to both shows!
Trailer from last year's cast:
Scoot Theatre's A Midsummer Night's Dream Official Trailer