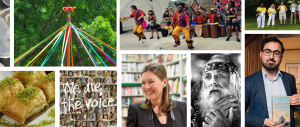 To launch Refugee Week, we are celebrating the importance of community, diversity, and sustainability, and continuing to build a better future both globally and within Elmbridge.
The theme of this year's refugee week (20-26 June) is healing.
Our contribution to this theme is through dance, music, storytelling, and food, at our second Shared Future Festival!
Drop by throughout the day to enjoy our outdoor activities, BUT to guarantee your place for our free indoor events, consider booking in advance.
Tickets may be available on the door.
Enjoy the delicious food stalls, performances, inspirational talks, music and art​ that will be here at Riverhouse,
Sunday 19 June from 11am to 3.30pm
!
Events to include:
IN THE BARN:
11.00am
Lesia Scholey:
Writer, journalist, campaigner and volunteer, Lesia will talk about Ukraine. After a varied work history, she is now communications adviser at the Ukrainian Institute London and active in ElmbridgeCAN.
This event can be booked in advance.
Book here
11.30am
St George's 6th Form Volunteer Project:
In this Q & A session, some of the St George's and Afghan teenagers share their reflections on what it's been like to get to know one another this year, to socialise, and play sport together. And they talk about where their activities might go from here!
This event can be booked in advance.
Book here.
12.15pm
Bantu Arts:
Join the Bantu gang in a drumming workshop. Bring your own, or use the group's drums.
To guarantee participation, this event MUST be booked in advance.
Book here.
1.15pm
Film and Q&A for Cricket and Alsama project:
Mrs Jay - a short and inspirational film about Jay, from Afghanistan, and her new life in the UK, followed by a Q&A. Cricket and the Alsama project - a short and powerful film about the work of the Alsama foundation in Lebanon and the power of cricket to change lives, followed by a Q&A with Trustee Suhir Helal.
This event can be booked in advance.
Book here.
2.00pm
Gulwali Passarly:
Gulwali is a dedicated advocate, humanitarian, and spokesperson for refugees and asylum seekers across the UK. Gulwali will talk of his story of struggle, danger and resilience and how he miraculously survived.
This event can be booked in advance.
Book here.
3.00pm
Francis Firebrace:
Popular local character Francis will combine story, art, dance, and philosophy into a powerful performance of the oldest known culture on Earth - Aboriginal.
This event can be booked in advance.
Book here.
OUTDOOR STAGE:
Outdoor events are available to attend without booking.
11.00am
Calypso Crew:
Cleves' pupils will be playing steelpans, from traditional Caribbean tunes, through to Disney and pop music.
Calypso Crew are all pupils from local Cleves school. Cleves has a long tradition of Steelpan playing, and everyone is welcome to join a band - many of the children have had no other musical experience.
11.35am
St Lawrence Maypole Dancers:
A tradition associated with May Day celebration.
Students from St Lawrence CofE School in East Molesey will be performing traditional Maypole dancing. This involves a group of dancers circling a large pole with ribbons, and then wrapping these ribbons around it in different directions and patterns.
12.30pm
We Are The Voice Children's Environmental Choir:
Singing for the climate, oceans, and trees, for the species with which we share our world, and for children's futures.
The choir was selected in 2021 to perform at COP26 in Glasgow. Performing exciting, original material with rousing lyrics and dynamic melodies, the children win hearts and minds wherever they perform, and deliver a message of hope for the future.
1.30pm
Bantu Arts:
Enjoy a high-octane traditional African/Ugandan dance spectacular and feel free to join in
Lead by Steven Kasamba, Bantu are fully costumed artists experienced in traditional African arts through music and dance. Bantu is passionate about performing and aims to give audiences a memorable experience.
2.45pm
Synchronise Gospel Choir:
Sing along to some known Gospel pieces
Synchronise is a community based mixed ability choral group formed in 2019 by Oasis Church Walton, which focuses mainly on a repertoire of Gospel related songs/music. All are welcome.