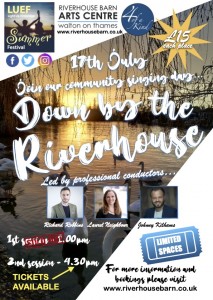 "Down By The Riverhouse" 
Join the professional quartet of singers, 'Four of a Kind', for a community singing day (part of the Light up Elmbridge Festival - Summer 2021) where you will be taught songs from scratch and then finish the day performing to friends and family. The past year and a half has been so difficult for everyone and we hope that this fun day of music making will remind everyone of the many benefits of singing together. Whether you are in choirs already or new to singing, this day will be fun, engaging and you'll leave inspired. 
The event will be held outside at The Riverhouse Barn in Walton-on-Thames using their brand new outside stage and seating area. Appropriate social distancing and safety measures will be in place in line with government guidance at the time. We are hoping the British weather will be kind to us but there is always the fallback of using the barn. There are only a limited number of spaces available so make sure you book early to avoid disappointment! 
Saturday 17 July
Workshop 1 - register at 1pm for a 1.30pm start,
Performance 1 -  4pm 

Workshop 2 -  register at 4.30pm for 5pm start
Performance - 7.15pm

Tickets for workshop £15 
Performances are free book here