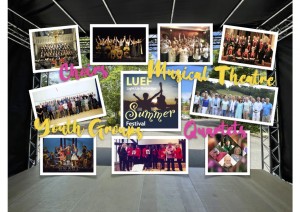 As part of the Light Up Elmbridge Summer Festival, there will be a Choir Festival featuring nearly 10 choirs over the course of a weekend, with everything from a male voice choir through to pop, folk and soul.
There will be a choir for everyone!
This festival is about more than just the coming together of choirs for a weekend however - it is something that has been in the making for almost a year!
It will be the first time some of these choirs are performing together, in-person, for a very long time, and is the culmination of a million different Zoom rehearsals!
As local Musical Director, Jonathan Kilhams says, "This festival has been something that all choirs have been looking forward to and will be such an amazing experience for all involved. Musical Directors hearing their choirs perform for the first time in 14 months, singers standing side by side (be it 2m apart) as they used to be. It will be a huge boost to everyone's physical and mental wellbeing and I can't wait for it!"
Schedule of performances:   
11.15 - 12pm Synchronise Choir
(book here)
12.15 - 12.45 WWAOS
(book here)
13.00 - 13.40 Weybridge Male Voice Choir 
(book here)
14.00 - 14.40 Molesey Musical Theatre
(book here)
15.00 - 15.30 We are the Voice
(book here)
15.45 - 16.30 Oatlands Singers
(book here)
16.45 - 17.30 Earthly Voices
(book here)
18.00 - 18.40 Walton Voices
(book here)
19.00 - 19.30 Notarioty Quartet
(book here)
Saturday 3 July, 11.15am