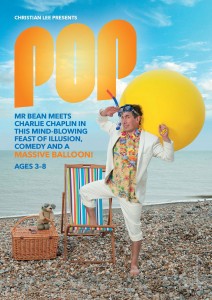 POP! is a fun, dynamic and inspiring show, which tells a mysterious and enchanting story through physical theatre, illusion, film and object manipulation.
The adventure takes place on a deserted beach and follows the magical journey of Christian Lee - a silly, but dedicated character. With his faithful teddy bear, deckchair and fantastic basket of tricks, Christian is all set for a lovely day at the seaside...until the day takes a turn and things don't quite work out as planned.
Join our hapless hero and be astounded in this totally word-free clown and magic show that follows his exciting adventures at sea.
Mr Bean meets Charlie Chaplin in this mind-blowing feast of illusion, comedy and a MASSIVE balloon! The most fun-filled show for children and families around with enough magical delight to keep the young and young at heart enthralled.
Performed by the award-winning comedy magician Christian Lee, POP is directed by Adrian Berry and supported by John Wright, Jacksons Lane Theatre and Arts Council England.
Saturday 29 April 2pm
Tickets £9 (£7 child)